Alerts are a comfortable way to keep you up-to-date about new papers regarding your area of research or who cites your work. Alerts are available in several databases like Web of Science and SciFinder (Keep me posted).
How to set up alerts and RSS feeds in Web of Science (WoS)?
1. Search Alert
Search alerts will notify you of new items added to the database that match your search query.
Save searches to run them again later or set up a citation alert by clicking the Save History / Create Alert button on the Search History page. In the next step you will be asked to save your history to your private account. To set up the search alert select the check box Send Me E-mail Alerts.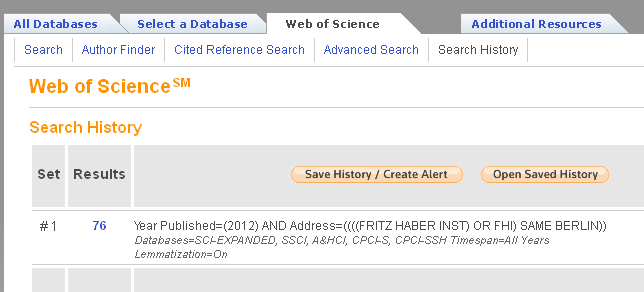 2. Citation Alert
You will be notified when a specific article is cited by any new article indexed in the WoS.
Each WoS record has a Create Citation Alert button. Just confirm to add the citation alert to your personal account.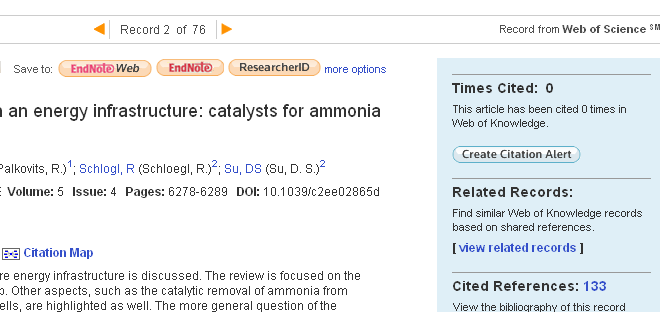 3. RSS Feed
You can manage your alerts from any Web of Knowledge page. Click My Citation Alerts or My Saved Searches in the personalization tab (at the top of the page).
Set up a RSS feed to track new results that match your search terms by clicking the orange XML button in the RSS Feed column. Subscribe to your feed with your preferred reader or copy and paste the URL in your RSS reader subscriptions.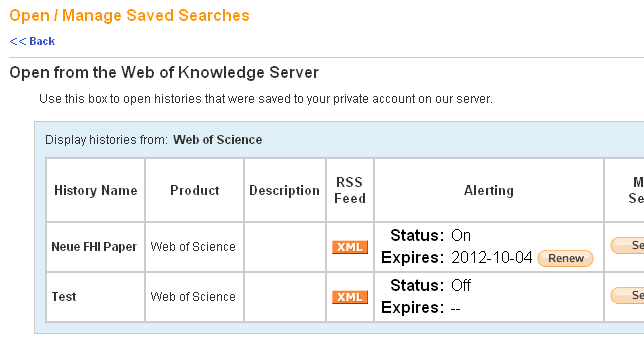 If you do not have a Web of Knowledge personal account you can easily create a new profile by using the Sign In button in the personalization tab (at the top of the page).
Web of Science training material is available at Thomson Reuters webpage.